Why use a digital photo organizer

You use a digital photo organizer to help you in organizing your digital photos and avoid the hassle of wading through dozens of separate folders just to locate that single picture.

It's such a pleasure to take lots of digital photos that before you know it, your hard disk will be overflowing with photos. But it's time consuming to locate photos manually.
At times like these, a software that allows you to arrange your digital photos within your computer for organized viewing, grouping, and easy browsing of your digital photos comes in handy.
A digital photo organizer is an example of such software.
A digital photo organizer will be your best buddy in organizing your digital photos, whether you're:
a professional photographer
a hobbyist or photography enthusiast who takes lots of digital photos during vacations or special occasions
a proud parent who wants to capture your children's priceless moments
or a newbie who has just discovered the delights of using a digital camera

Here are some benefits of using a digital photo organizer
1. For one thing, it helps you arrange your photos into different categories.
If you want to view the photos from a particular vacation in a certain year, then just click the corresponding album label or category.
2. Add captions so you can search for specific photos using your organizer software's Search feature.
This helps you find your photos within seconds and avoid lots of frustration looking for that 'one photo'.
Let's say you want to search for a photo of your friend when you were in a beach during a summer vacation. Unfortunately, you're not sure which beach that was or what year. No problem, just click the Search function of your organizer software and enter the keyword 'beach' and/or the name of your friend (assuming the word 'beach' or the name of your friend is either in the filename, caption, or label of the photo). Voila! You find the digital photo you're looking for.
You might be wondering, do you really have to insert a caption to all your digital photos?
It sounds really tedious. That's why it's best to name or caption your photos right after uploading them into your computer. This way you won't be overwhelmed, and you'll have a pretty organized collection of digital photos. You avoid tapping your fingers in frustration when locating certain pictures once you have thousands of digital photos to look into.
3. Many digital photo organizers offer you the chance to caption your digital photos by groups.
This makes captioning your digital photos fast and easy. Check out your software's help file on how to do this.
Remember, you can type in general keywords like sunset, beach, fishing; or specific keywords like Lake Tahoe, Louvre Museum, etc.
That's not all.
4. Speed up the process of sharing your photos by using the built in features for creating CDs or sharing through email.
Some digital photo organizers have built in functionalities that allow you to burn your digital photos unto CDs.
You can also email your photos directly to family and friends with a few mouse clicks within the software.
5. Use the image editing features to enhance your photos immediately.
Digital photo organizers are more than just for organizing your photos. Many offer basic image editing features like cropping, resizing, fixing red-eye, and automatic fixes among others. All without opening a separate photo editing software.

How about an example...
Let's look at Picasa for instance. It has all of the above features and more.
Picasa is a digital photo organizer from Google that gives you a single, unified view of all your pictures even if your digital photos are stored in different locations within your computer.
When you launch Picasa, the default mode shown is the organizer mode. It looks somewhat similar to windows explorer wherein the left panel shows the folder names listed as visual albums sorted by date, while the right panel shows the content or digital photos.
But the difference is that you can view all the digital photos in your computer by dragging the scroll bar in the right panel up and down. No need to click a folder one-by-one to view the photos inside. Although if you want to jump to a specific folder or visual album, you can click that folder in the left panel, and the right panel automatically scrolls to the photos inside that folder.
Here's what Picasa looks like.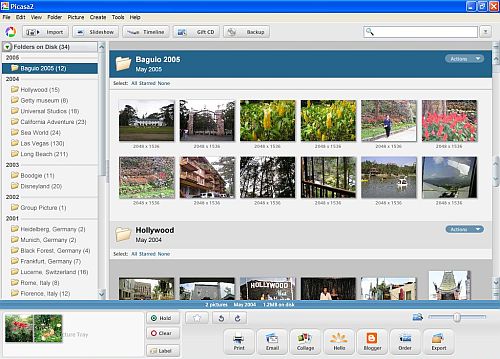 Aside from that, what makes Picasa a special digital photo organizer?
Another unique feature of Picasa is the timeline mode. This displays your visual albums in a chronological curve, similar to a carousel, sorted by date. Then use your mouse or the arrow keys of your keyboard to spin the timeline mode clockwise or counter clockwise.
Want to watch your digital photos through a slideshow? No problem. Just click the slideshow button either in the timeline mode or organizer mode.
Also, in the organizer mode, there is a picture tray at the bottom left side of the screen. The picture tray is where you place several pictures from different albums then act on them at the same time, whether to create a collage, print, email, or share your photos among others.
But like any other software, Picasa is not perfect. For example, as of version 2, when you click an album in the timeline mode, the background photo is blurry. And you can't drag a photo from the timeline mode into the picture tray of the organizer mode.
The timeline and organizer mode are synchronized, though, so you can switch between these two modes and still stay at the album you're currently working on.

How about other choices for digital photo organizers?
Here are some of the most commonly used digital photo organizers out there:
Corel Paint Shop Photo Album
ACDSee
Adobe Photoshop Album
Microsoft Digital Image Library

The bottomline...
Choose a digital photo organizer then use it. Otherwise it just sits there in your computer and you're still stuck with arranging and naming your digital photos manually. Save your time and effort by at least automating these tasks.
Want to take organizing digital photos to the online level? Check out online digital photo albums.




Return from Digital Photo Organizer to the Home Page