Why you should store your photos in
online digital photo albums

First, what are online digital photo albums?

Since a picture is worth a thousand words, here's an example of what one looks like: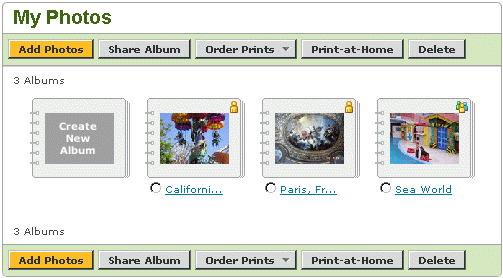 Then click an album to see the photos inside: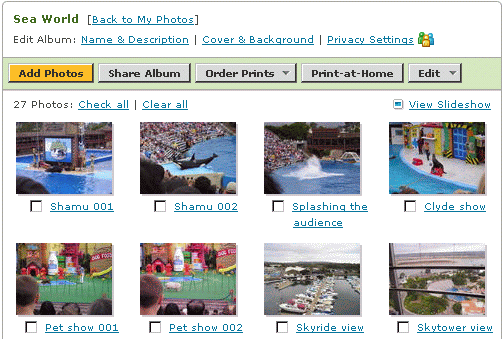 Briefly described, an online digital photo album is an electronic album that you access through your computer's browser. It's actually similar to an ordinary album where you store, organize, and label your photos, except it's stored online, and is accessible through the internet.
And because of this, you can access your pictures anywhere in the world with an internet connection.

Maybe you're wondering, why use online digital photo albums?
Two words: convenience and security.
Using online albums is convenient because once you upload your digital photos, you can:
view them in a slide show,
easily share them with family and friends, and
order digital prints and photo gifts in a few clicks
Your family and friends can even order the digital photos they want developed themselves. This saves you time and money.
And don't just hide your favorite photos inside albums. See them frequently by having them printed in mugs, calendars, cards, or even T-shirts!
Now in terms of security, you upload photos online for backup in case of accidents such as fire or a hard disk malfunction. You can always rest assured that your treasured digital photos are safely stored other than in your computer.

Ready to upload your photos into online digital photo albums?
First, launch your browser and log in to your online service of choice (e.g. Snapfish, Shutterfly, Yahoo Photos, etc.) Then, follow the easy to understand instructions on screen to:
Create new albums,


Upload your digital photos,


And set the Sharing Settings to choose the people you want to share your album with
Aside from allowing you to organize and label your photos for easy viewing, most online albums will even let you edit or enhance your photos. Many offer red eye reduction, cropping, adding borders, and adjusting the brightness and contrast of your digital photos.

One more thing...
To be on the safe side, store your digital photos in more than one online service. So that if the one you use closed down, you still have a ready to use backup in another online service.
With the Quick Upload utility of most online albums, it's pretty easy to upload batches of photos. Just drag and drop your digital photos to your browser, then click Continue or Upload. While your photos are being uploaded, go do other tasks. Come back later to check your uploaded photos.
Next, I'll show you step-by-step how to upload your photos ...
Return from Online Digital Photo Albums to the Home Page